Sony UP-990AD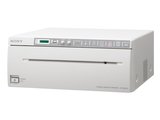 The Sony UP-990AD is a black and white HYBRID graphic printer that supports both analog and digital applications. This dual compatibility is especially critical as imaging systems make the transition from analog to digital technology.
The UP-990AD has both an analog video input as well as a USB 2.0 high speed interface for digital printing.
The UP-990AD offers an improved resolution of 325 dpi ensuring superb picture quality and faster print speed of about 8 seconds.
The UP-990AD can also use the UPT-210BL blue thermal media which produces high quality film-like transparencies.
The UP-990AD is the ideal choice for medical black and white analog and digital applications such as ultrasound, mobile c-arm, and cardiac cath lab where high line video compatibility is required.
Give us a call at 707-477-3844 if you are interested in buying this printer.  We have them in stock at a great price.