Sony LMD-2451MD
medical grade monitor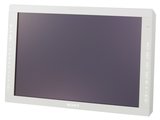 Sony introduces the LMD-2451MD 24" full HD widescreen LCD monitor. This is the newest Sony medical grade display in Sony's line-up.
Built upon the same platform as the popular LMD-2450MD, it offers a superb quality WUXGA (1920 X 1200) LCD panel. With 10-bit signal processing, Sony ChromaTRUTM color balance technology and new integration friendly features including enhanced DVI interface and multi-modality support capabilities, this is a very capable monitor.
The LMD-2451MD is equipped with two unique built-in option slots designed to accept a variety of option boards (including two new option boards) to easily expand, select, and change input/output signals for integration into virtually any system environment.
The optional BKM-256DD option board expands the monitor's capability to accept up to two DVI inputs and one DVI loop-through output.
For optical fiber transmission, the 5V power required to power a DVI-D to fiber optic converter is supplied from both DVI-D input and output connectors of the BKM-256DD option board. This enables easy integration of optional DVI-D to fiber optic extension converters.
Installation of the new BKM-250TG option board enables the LMD-2451MD to accept a 3G input 1080/60p signal via a single SDI cable.
The Sony LMD-2451MD has industry-leading Sony HD technology and versatile input/output signal capability, it is the perfect addition to all medical operating rooms in hospitals and surgery centers.