Sonoscape S8 Ultrasound

Now available for only $19,995 with 1 probe

(limited time at this price)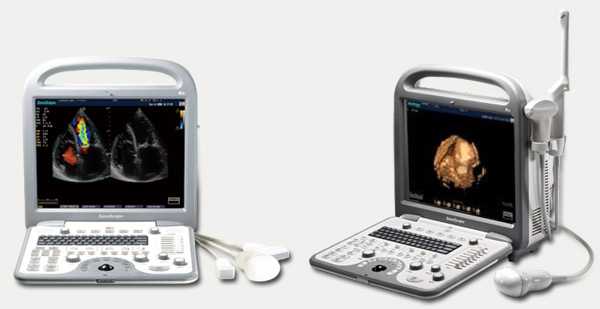 The Sonoscape S8 ultrasound system is designed for use in all point of care environments. The S8 system delivers premium imaging performance across a broad range of specialties.
Providing excellent imaging quality, the S8 enables clinicians to achieve an enhanced level of diagnostic confidence and efficiency within a limited budget.
The Sonoscape S8 is fantastic for those operating a mobile ultrasound business. The S8 has strengths in so many areas. The mobile operator can cover a wide range of clients with the same machine.
The S8 is great for all aspects of the mobile business (budget, image quality, portability, durability). It is the best portable ultrasound system that sonoscape has released that provides great imaging for all modalities.

View the Sonoscape S8 brochure here

S8 is a high-end color Doppler portable ultrasound system from SonoScape. This system clearly expresses the words of "an ever-higher standard of Echo portables. Although S8 is a portable system, its performance is equal to high-end cart-based echo ultrasound systems.
This flagship system, the S8 is incorporated with high configuration to meet the strictest requirements from cardiologist, such as adult TEE, pediatric TEE, high frequency phased array, 15 MHz linear transducer, 512 super high density transducers, 4D imaging function, and so on.

• HCU design with two transducer sockets; Convertible trolley design

• 15″LCD monitor with super large imaging area

• Full cardiovascular transducers: TEE, Pediatric TEE, Phased array, High frequency phased array, High-frequency linear, etc.

• High density transducers with frequency ranges from 1.9 to 15MHz;

• Integrated with state-of-the-art technologies, like μ-scan technology, IMT, multiple-beam processing, automatic flow volume analysis, 4D imaging technology, etc.

• Comprehensive cardiovascular analysis kits: TDI, Steer M, Color M; CW, HPRF, Panoramic image, etc.

• Full patient database solutions: DVD RW,DICOM3.0, AVI/JPG, USB2.0, HDD, PDF report, etc.

• Built-in high capacity Li-ion battery



Some background on Sonoscape

Since its start in 2002, SonoScape is specialized in manufacturing high standard diagnostic ultrasound systems and transducers and it has committed to supply customer-focused and reliable equipments for clinics and hospitals all over the world.
Because of its care for life and contribution to human health, SonoScape has been consecutively awarded as the "European Entrepreneurial Company 2008" and "Product Quality Leadership Award 2009" by FROST & SULLIVAN in two years and it is the only company won "China Top Brand" in medical fields in China .

For more information on the Sonoscape S8 ultrasound system send in the form below with your question.