Sonoace R3
Portable Ultrasound System
by Vue Medical Technologies
Two probes included for less than $19,900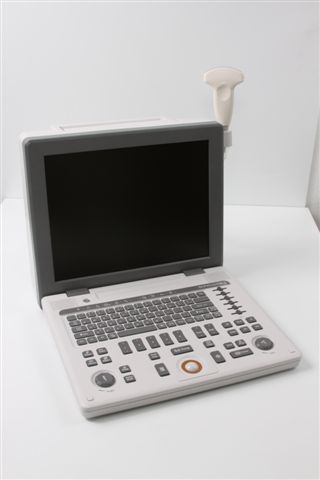 This is a brand new system with a full 1 year warranty.
The Vue Portable Sonoace R3 is an easy to use, EMR-compatible ultrasound system that provides one-touch image optimization & great connectivity at a fantastic value.
The SonoAce R3 portable is the successor to the popular Pico ultrasound system and improves upon it's imaging capability while reducing weight and size.

Imaging modes
B mode
M mode
Color M mode
PW Spectral Doppler
Power Doppler
Color Doppler
THI tissue harmonic imaging
Surface 3D

Features
* 15" LCD screen
* 2 probe connector ports
* Full spectrum imaging
* Quick Scan - one touch image optimization
* Harmonic imaging
* SonoView image management
* 3 USB 2.0 ports for image transfer
* OB/GYN measurements & reports
* DVI output The Sonoace R3 portable ultrasound system can also come with an optional mobile cart with 4 swivel wheels & video printer shelf.
The Sony UP-897MD Video printer is also available as an option.
And of course DICOM is an option if you want to be compliant with your PACS system.
All VUE ultrasound systems are brand-new and come with a 1 year full parts and labor warranty.
Extended service contracts are also available through our service network.
Fill out the contact form below to receive more information on this system.