Sonosite Titan
recently reduced price!
with two probes of your choice - less than $16,995


Available Transducers:
C60/5-2 Convex Array Abdominal
C11/7-4 Microconvex Array
L38/10-5 Linear Array Vascular
C15e/2-4 Microconvex Array Cardiac
ICT/7-4 Endocavity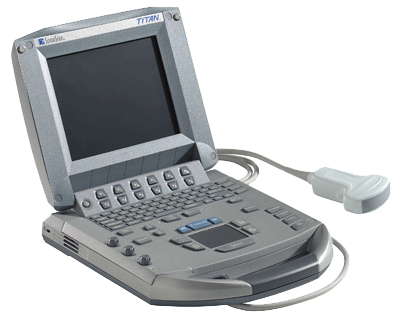 The SonoSite TITAN® is a high-resolution modular ultrasound system. It provides health care professionals with state of the art high-resolution ultrasound imaging wherever needed for responsive, rapid patient care.
The Sonosite Titan system's modular design includes three major benefits:
* Stationary and mobile usage
* Point-of-care connectivity
* Flexible, cost-effective paths that enable users to acquire new components and software applications
This ultrasound system's modularity is based on SonoSite's proprietary ASIC (Application Specific Integrated Circuit) technology, and combines the high performance of cart-based systems with the speed, flexibility and durability of mobile ultrasound devices.
The Sonosite Titan delivers point-of-care connectivity through its Mobile Docking System, allowing the user to connect to the health care provider's internal and external information systems.


Imaging Modes on the Titan
2D
Split screen
Zoom
Color power Doppler
M-Mode: 3 sweep speeds 1/2:1/2, 1/3:2/3 or full screen options
Pulsed wave (PW) Doppler
Continuous wave (CW) Doppler
Velocity based color flow Doppler
Duplex imaging
3 sweep speeds 1/2:1/2, 1/3:2/3 or full screen options
Tissue Harmonic Imaging (THI)

NEW REDUCED PRICE - for a system with two probes included!!!!!
Give us a call at 707-477-3844 for more information.
We have special pricing on remanufactured two probe Sonosite Titan system configurations for $19,995 with one year warranty included. You choose the probes that are right for your practice.
Available Transducers:
C60/5-2 Convex Array Abdominal
C11/7-4 Microconvex Array
L38/10-5 Linear Array Vascular
C15e/2-4 Microconvex Array Cardiac
ICT/7-4 Endocavity

View the Sonosite Titan at the Sonosite website