Sonosite MicroMaxx

With any two probes of your choice
Only $29,995
Sale Price - Sonosite Sale is now active
Click here for current sale pricing on all systems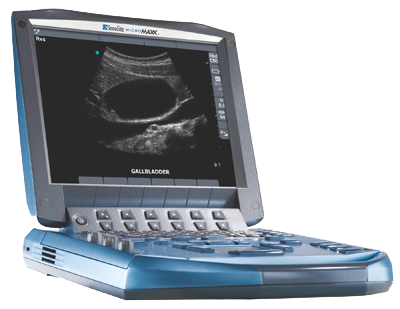 Designed to make your job easier, faster and more accurate, the SonoSite MicroMaxx ultrasound system makes point-of-care ultrasound a reality.
BIG MACHINE PERFORMANCE IN A PORTABLE UNIT.
The Sonosite MicroMaxx has the software and system design to give you high-quality images with speed and reliability while operating on either AC or battery power.
Ultrasound that goes anywhere!
From busy offices and big-city hospitals to critical-care situations in the field where every second counts. The SonoSite MicroMaxx system boots up quickly; it is capable of powering up within 15 seconds. This easily carried device (8 lbs) gets medical professionals into-and out of-tight spaces quickly.
All the calculation software packages are onboard the system.
The MicroMaxx system software is hard-wired and ready for fast boot-up times, faster digital image processing and the ability to run for a long time on battery power.

SYSTEM SPECIFICATIONS:
Weight: 7.7 lb (3.5 kg)
Dimensions: 11.8" L x 10.8" W x 3.1" H (30.2 cm L x 27.7 cm W x 8.0 cm H)
Display: 10.4" (26.4 cm) diagonal LCD (NTSC or PAL)
Architecture: All-digital broadband
Number of channels: 128 channels
Dynamic range: Up to 165 dB
Gray scale: 256 shades
HIPAA compliance Comprehensive tool set
IMAGING MODES AND PROCESSING:
2D/velocity color Doppler/color power Doppler/M-mode/PW and CW Doppler Dual imaging
M-mode/Duplex Imaging
3 sweep speeds
1/2:1/2, 1/3:2/3 and full-screen options 2X Pan/Zoom
Tissue Harmonic Imaging
TRANSDUCERS:
Broadband and Multifrequency: Linear Array, Curved Array, Phased Array, Multiplane TEE, and Micro-Convex
Single Frequency: Cardiac Static Pencil

View the available Sonosite MicroMaxx transducers here

APPLICATION-SPECIFIC CALCULATIONS:
OB/GYN/Fertility:
Diameter/ellipse measurements, volume, six follicle measurements, estimated fetal weight, established due date, gestational age, last menstrual period, growth charts, user-defined tables, multiple user selectable authors, ratios, amniotic fluid index, patient report
Vascular:
Diameter/ellipse/trace measurements, volume, volume flow, percent diameter and area reduction, Lt/Rt CCA, ICA, ECA, ICA/CCA ratio, time average mean (TAM), peak trace, ICA/CCA ratio, angle correction, patient report
Cardiac:
Complete cardiac calculations package and patient report including: Ventricular, aortic, and atrial measurements; ejection fraction, volume measurements, Simpson's rule, continuity equation, pressure half-time, and cardiac output
ONBOARD IMAGE AND CLIP STORAGE/REVIEW:Store up to 10,000 images with a 1Gb CompactFlash cardCine: review up to 220 frame-by-frame imagesStore up to 700 clips with a 4Gb CompactFlash card
MEASUREMENT TOOLS, BODY MARKERS AND ANNOTATIONS:
2D
Distance calipersEllipse for area and circumference measurements
DopplerVelocity measurements, RI & S/D ratio Volume Flow calculation
M-modeDistance and time measurementsHeart rate calculation
User-selectable text and body markers
Application-specific text via function keys
Biopsy guidelines are available as an option at additional cost.
EXTERNAL VIDEO AND AUDIO - (REQUIRES AN OPTIONAL MDS, MDS LITE OR SEPARATE MINIDOCK):
S-video (in/out) to VCR or DVD for record and playbackRGB or DVI output to external LCD displayComposite video output (NTSC/PAL) to VCR, video printer or external LCD displayAudio outputIntegrated speakersSonoRoam True Mobility wireless data transfer
POWER SUPPLY:
System operates via battery or AC powerRechargeable lithium-ion batteryAC: universal power adapter, 100-240 VAC, 50/60 Hz input, 15 VDC output