Sonosite 180Plus
Special Price

Sonosite 180 Plus with CW, PW and THI
any two probes - you choose
only $13,995
call or email with your questions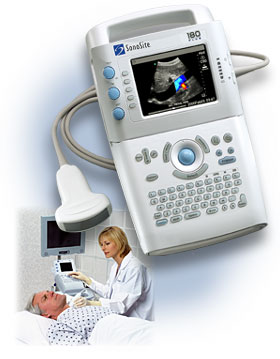 ---
Re-manufactured Sonosite 180Plus with all options included:
PW Doppler
CW Doppler
THI - harmonics
One probe configurations:
Price with the C60 convex abdominal probe or ICT 7/4 Intracavity transducer (you pick):
Was - $15,500, NOW - only $9,995
30 Day Warranty is included.
System Priced with individual probes was:
C-60 - $15,500
ICT 7/4 - $15,500
L-38 - $16,500
C-15e - $16,500
C-11 - $16,500
Now pick any 1 probe and buy for only $7,995
---
Priced with any two Probes:
Was $22,900, NOW - $11,995

You pick any two probes - great value!

Lease for under $400/month for 60 months with a $500 down payment.


Click here for more leasing information

---
Probes available for the Sonosite 180 Plus:
*C60 Convex abdominal (2-5MHZ)
*ICT7-4 Intracavity Transducer (4-7MHz)
*C15e Cardiac convex (2-4MHz)
*C11 Pediatric convex (4-7MHz)
*L38 Linear vascular and small parts (5-10MHz)


Review Sonosite 180Plus features

Call to order (or lease) now at 707-477-3844 

Please let us know if you have any questions by using the form below.