Sonosite 180
family of systems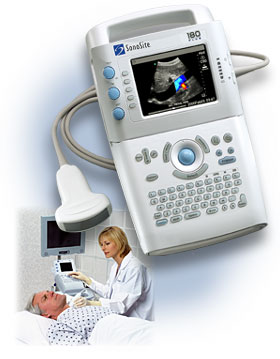 The Sonosite 180 family of portable ultrasound systems has it all.
General Imaging: High Quality, Point-of-care Ultrasound
* All-digital image quality
* Weighs 5.7lbs (2.6 kg), battery or AC powered
*Pulsed Wave (PW) Doppler (optional)
*Directional Color Power Doppler
*Color Power Doppler
*Tissue Harmonic Imaging (optional)
*M-mode
*ECG Capability
*Direct PC Connectivity (180 plus)
*Wide range of broadband transducers
View the Sonosite brochure - PDF

The Sonosite 180 systems we sell are all remanufactured and in a "like new" condition. Pick Sonosite 180 system then add your probes and options from the list below to get the total cost for the system you want.
Remember, the Sonosite 180 Plus is needed for any of the option choices listed below. Add up the options and probes you choose to get the system final cost.
Here is the pricing when systems are not on sale:
Systems (without probes): Original Prices (now lower - call us)
Sonosite 180 - $4500
Sonosite 180HF - $5200
Sonosite 180 Plus - $8000
Sonosite 180 Plus w/CW - $8500
Add the probes you want on your system.
Probes:
C-60 - $4500 - convex probe
ICT 7-4 - $4500 - inter cavity transducer
C-15 - $4500 - cardiac/chest probe
C-11 - $4500 - pediatric probe
L-38 - $4500 - linear/vascular probe
Options:
THI - $1500 - Tissue Harmonics Imaging
CW - $1500 - Continuous Wave Doppler
PW - $1500 - Pulsed Wave Doppler
Remember we have pre-configured certain systems and have them on sale now. To check the current sale items click on the link below.


ON SALE NOW - All Sonosite systems

Give us a call with your questions.
Sonoma Health Products
Phone: 707-477-3844
Fax: 707-922-0445