Philips ATL HDI-3000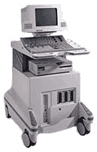 HDI-3000 information is for reference only - we do not sell this item.
The ATL HDI3000cv is the solution for those wanting a high performance, all digital, Cardio/Vascular Ultrasound that is capable of 2-D, M-Mode, Color Flow and steerable Pulsed Wave and Continuous Wave Doppler studies.
The HDI 3000cv provides fantastic 2-D image quality, very high-definition Colorflow studies and highly efficient, time-saving Doppler exams.
Broadband phased, linear & curved array capable
Extended Signal Processing (ESP)
Tissue Specific Imaging (TSI)
Color Doppler, 3D Color Power Angio (CPA), Power Motion Imaging (PMI) & Chroma Imaging (CI)
Triplex steered spectral PW Doppler & Hi-Q analysis
M-Mode
Cine & Zoom (ROI Read/Write)
OB & vascular calcs/reports software
Panasonic 830MD SVHS recorder (integrated)
System Options, Probes and Peripherials:
Harmonic Imaging (HI)
Disk Link
Net Link (DICOM output)
P32 cardiac 2-3 MHz phased array probe w/ 2.5 MHz blind CW probe, 3 lead ECG cable & cardiac calcs/reports software
MPT74 multi-plane TE 4-7 MHz phased array probe
C4-2 OB/abdominal 2-4 MHz curved linear array probe
L7-4 small parts/vascular 4-7 MHz linear array probe
C8-4V Endovaginal 4-8 MHz curved linear array probe
C9-5 ICT endocavitary 5-9 MHz curved linear array probe
L10-5 small parts 5-10 MHz linear array probe
L12-5 small parts 5-12 MHz linear array probe (Requires Rev 125+)
Kodak INTEGRATED ISEM stress echo w/ optical drive
Aspect 6x1 camera (integrated)
Sony UP895 small-format B&W printer
Sony UP5600 multi-format color printer (integrated)
Comments: