Acuson Sequoia

High end diagnostic ultrasound
(Information only - we do not sell)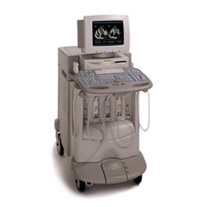 The Acuson Sequoia ultrasound system is part of the family of ultrasound products that have been the "Gold Standard" for ultrasound equipment in the medical imaging market for many years. The current Acuson Sequoia system is no different.

This a High Reslolution, Colorflow Doppler Imaging System.
Features include:
Native Tissue Harmonic Imaging (NTHI)
Color Doppler Energy (CDE),
TEQ
Full DICOM
Pulsed Wave and Color Doppler
Calculations packages includes VASCULAR and OBSTETRICAL. (CARDIAC Capability available as an optional upgrade)
This system was sold in very large numbers and is still a workhorse in many areas. It also means that refurbished systems can be supported for many years in the future.
Cost of a refurbished Acuson Sequoia ultrasound system with two probes would be sold for about $25,000.