PHILIPS HD-7XE
Ultrasound System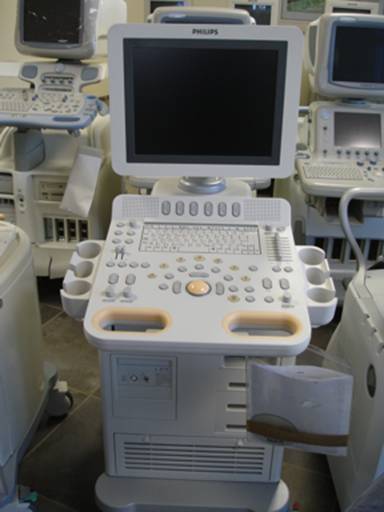 PHILIPS HD-7XE CVO Shared Service system is a great system for the doctor that needs multiple applications. It comes with a 15" LCD Monitor. Most systems also have DICOM Networking, I-Scan, I-Scan Doppler Stress Echo, XRES, Tissue Doppler, Trapezoid, Panoramic Imaging, Contrast Imaging, Color Doppler, CW/PW Doppler, M-Mode, Angio, ECG, CD/DVD Writer, and USB conectivity.
With the three probes listed below you will have a very complete ultrasound system:
S4-2 Cardiac Sector, C6-3 Convex (Explora), L12-3 Linear (21475A)
The Philips HD-7XE is available now. Send us a note with the contact link below and mention the PHILIPS HD-7XE system.